The Most Advanced Dental Technology, Employed for You
Dublin Dental Care thoughtfully invests in the most modern dental technology to best suit your dental care needs. Our entire staff strives to stay informed of the latest methods and advancements in dental care, ensuring that our practice delivers gentle and beautiful dental solutions. Each of our technology investments facilitate a greater collaborative experience between the dentist and patient during examinations and treatments.
Experience the Dublin Dental Care Difference
To Deliver Superior Results, Dublin Dental Care Invests in the Following Technologies: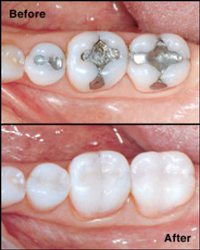 Using state-of-the-art CEREC technology, we can create and place custom dental crowns, boost the lifespan of a dental crown, increase the comfort of the crown and give your smile a more natural look – all within a single visit! CEREC crowns are made from durable materials and provide a natural look for smiles damaged by decay, trauma or just long-term wear and tear.
By using a digital intraoral camera, mentioned below, we are able to capture a high-resolution image of the affected tooth region. From this image, our dentists create a detailed impression that is used to craft a custom fitting dental crown.
We utilize digital x-rays to deliver safe, predictive dentistry to our patients. Using considerably less radiation than traditional methods, digital x-rays are considered substantially safer for the overall health of a patient. By placing sensors in the mouth, we can capture high resolution, digital images of the teeth and internal structures of the mouth.
Digital x-rays allow for better communication with our patients, delivering captured images to a high-resolution computer monitor. The images can be scaled and rotated, allowing the dentist to walk through any particular concerns or discoveries.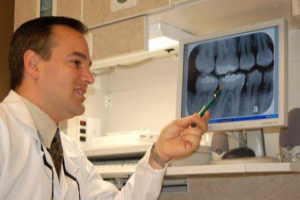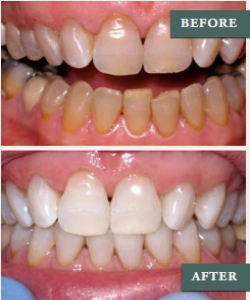 KöR Whitening delivers a beautiful and natural white shine to teeth. Effective on all degrees of stains and discolorations, KöR easily combats the aesthetic effects of your favorite everyday staples, such as coffee, red wine and tea. This advanced teeth whitening solution has been ranked as the most effective and reliable way to deliver substantially whitened teeth. It is considered the most advanced bleaching system available on the market.
We further the fruitful collaboration between patient and dentist by using intraoral cameras during our exams. Different from a digital x-ray, the images captured by an intraoral camera provide true-to-life images of teeth, gums and other areas of the mouth. As we display images on a chair-side monitor, we can educate our patients on their dental make up and oral health.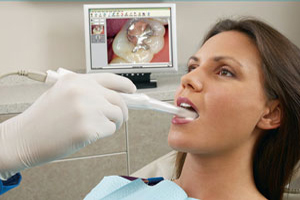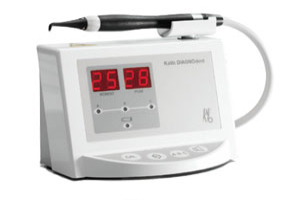 Diagnodent Laser Cavity Detection System
We invest in the latest cavity detection system, known as Diagnodent Laser Cavity Detection. Diagnodent allows our dentists to discover cavities that are sometimes hidden from other means of discovering. Using a laser and an audible beep, the technology allows us to quickly find signs of decay and deep cavities. Identifying decay in its earliest stages ensures a quicker, more convenient treatment.
Our team is happy to answer any questions or concerns you may have regarding the technology we use during your dental care.